Jef and his dad, hanging out in the shade.



My dad and Jef's sister (Deby) talking about cars.



My aunts: Shirley and Sue (Sue is my nuther-muther aunt who rocks the house, FYI!)



Y'all know this smiley fella... isn't he just handsome!



Ava and dada opening gifts... this is a Heffalump and a "vintage style" pull toy.



Ava's first taste of cake... she was a little lady and gently dabbed a bit of frosting off the top to taste her cake...



"Hey- that's some good stuff!"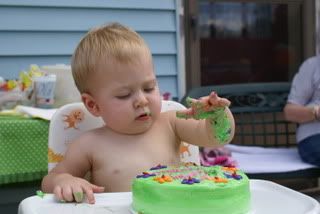 Because "cake up to your armpits" sounds like so much fun!



She kept pointing and trying to tell us how great the cake was!



Ava called her Aunt Deby over for a little help (Deby is the aunt that Ava shares a birthday with!)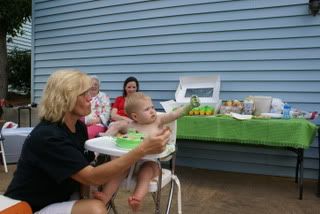 Calling for sissy Faith to come over...



...And have a BIG BITE sissy!



Faith acted all "grossed out", but I think she really dug getting frosted!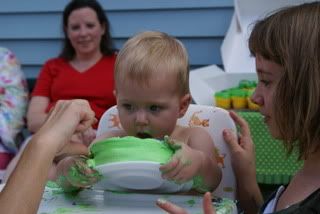 Now THAT is the way to eat cake!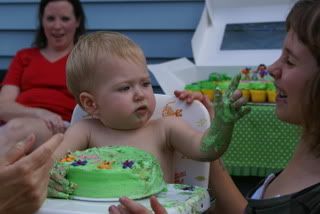 "You missed a spot!"



Ava says, "Stick with me Faith- I'll take you places, kiddo!"




The two sweetest sisters I know! If you look closely, Ava is dropping a wad of cake down the back of Faith's shirt.



Big people cake... er, cupcakes. Actually, they call it a "pull apart" cake. It was tasty whatever you call it!