I love Friday Mish-Mash! It's gonna be a permanent theme for me now!

After reading K's blog I got to thinking... How do you begin to explain the feeling of the end result to someone while they are TTC and having a rough time? If someone had told me, "It's worth every ounce of pain, every moment of suffering, and every dime that it costs, and you will look back and agree that if it'd been 10 times worse it'd still be a bargain for what you get!" I would have called that person a crazy bitch. I'm not really making a specific point here, just kinda jabbering through it all in my mind. It's like having a long running inside joke with a friend and then trying to explain it to someone else. If there is a point to this, it's keep your chins up girls!

And speaking of TTC.... I have nothing to report. Hahaha! I'm crazy!

Last nite (after Ava went to sleep and Faith went to my parent's house for the night) Jef and I sat on the couch, enjoyed a glass of wine* and listened to music for hours. I was the dj so I started us off with The Eagles then Boston, The Who (say it with me: Roger Daltrey is HOT), Jimmy Buffet, Queen, and then the Moulin Rouge soundtrack. We laughed, we talked, we did some air-banding and a little dancing! This morning there were clothes tossed all around the living room. Like people just suddenly got hot or something. There was a bra on the lamp, pants were inside out. I dunno what happened!

*I enjoyed wine, he enjoyed vodka, but it sounds more romantic for us to be having wine so envision that!

For those who have asked (Meg & Kris) the Jeep is a 1979 CJ7 with a CJ5 top (Ronny shortened it). So now it's a Jeep Truck (jruck as Jef says). Here's a few pics: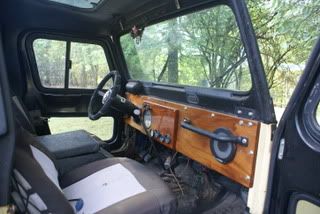 Here's Jef as a teen... when he had hair! Bald = low maintenance. I like!!


My words of wisdom for the day:
Never sneeze on your camera lens.

--The Moulin Rouge Milk Maid says "Voulez vous coucher avec moi, ce soir"