Little Miss Sweetie Pants is 6 months old today! Where has the time gone?!

Saturday we went to the mall and had some great photos made. We bought A LOT of pictures, but it was sooo much less expensive that the girl who did our last portraits. I can go to this place (The Picture People) and spend a 1/5 less AND take photos home (framed if I want) THAT DAY. We had pics made, viewed and chose what we wanted, and were done and on the way home with framed photos in about 2 hours.

We reached a milestone Saturday, much to mommy's surprise. Ava can sit up by herself for short bursts that last anywhere from 5 seconds to about 30 seconds! I learned this at the mall while having the photos made.

In other Ava news: She's eating solids now. I was very hesitant to start her too soon. I had originally intended on waiting until right at the 6 month mark before starting her on any solids. She had such an interest in what we were eating that I started giving her rice cereal and it blossomed from there. She loves all the stage 1 fruits and most of the veggies. She still is a huge boobie-baby though.... at least I can go to the grocery store and not worry so much about her not eating anything.

Here are the photos from Saturday: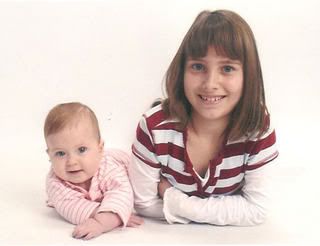 What a cutie, huh?!