Ava and I have made it to our 7th month together as a breastfeeding team! It's hard to look back and remember how tiny she was and how afraid I was that I'd fail at the whole bf-ing gig like I did with Faith.

Fortunately for me, Ava was a natural born boobie-baby. After she was back in the room from being cleaned up, the doctor came by to check her out. He popped his finger into her mouth to test her suck reflex and he said, "Boy mom, do I feel sorry for you!". She almost took the man's finger off. Most babies lose 7-10% of their birth weight in the first few days of life. Not Ava- she gained an ounce before leaving the hospital. My overachiever! I had the breastfeeding equivalent of "purple nurples". Just think about that one!

She's continued to grow at a rapid pace. Of course, if I ate every hour I'd be the size of an elephant too. At her 6 month checkup, she was as tall as the average 10-11 month old. Heaven help that girl when she starts dating-- I'm almost 5'8 and almost no guys were taller than me until 11th grade.

I don't know if I ever shared this pic of Ava before- it's right after she was born. She came so fast (under 3 hours total, from water breaking to her arrival) that she was bruised. What can I say, my children are impatient little devils.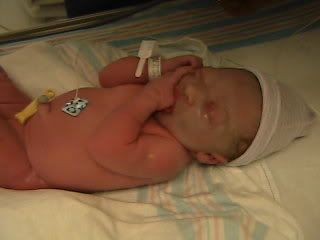 I bought a new car seat for her. She's too leggy for the "baby bucket". I was going to buy a nice, reasonably priced Graco or something. Everything we looked at kept pointing us to the Britax brand. Jef said, "How do you put a price on her safety" as he held Ava up. He should be a travel agent for guilt trips. We bought the Britax Marathon. And I love it!! Oh, and Ava does too.