Because she can...



Missing dada...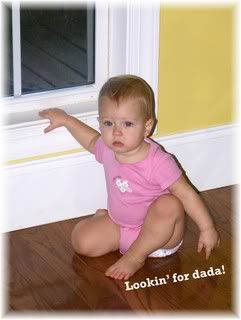 It's been a slow day- not a lot going on. I had a doctor's appointment this morning so they would continue their referral of me to my urologist... I had never actually been in to see my primary care provider, and after seeing him I wont go back. Think greasy old man. With dog breath. What a total waste that was... he was like, "Why are you here?". I said, "Because your office said I had to come in so I could continue my referral visits to the urologist". He looked in my ears and said, "OK, you are good to go!"

WTF? My ears? Listen to my heart or something you freak. He probably has an ear fetish... I am so glad I just thought of that. Bleh- disgusting! I asked him about the possibility of him prescribing me a mild anti-depressant and he said he liked to monitor his patients for a year before prescribing anything like that. Dude, I will so KILL someone in the next year and that would SO be your fault. Guess I will call my dear friend the OB/Gyn.

So many of you will need these soon: birth announcements.

--The Milk Maid says blabblahblah.