At least I hope it's a good Monday. At the very least it will be a busy Monday... I've already gotten Faith dressed up for school pictures, dropped her at school, been to the bank, grabbed a quick breakfast, put baby down to nap- and finally at a few minutes til 9am, I am enjoying my first sip of coffee.

Also on the agenda: this afternoon Faith has tutoring, karate, and homework. Today I have to food shop for Ava's birthday party this weekend. The only theme we are really going to have is "1st birthday". I am going to look at cakes today- perhaps a Dora or Pooh or one of those disgustingly cute little animated TV stars will be the perfect adornment to Ava's cake... I will take her with me and let her "pick" what she wants. That's for the party that includes my family. Although, the way I see it, the words "my family" and "party" tend to be mutually exclusive, but what the hell let's just make the most of it and try not to mistake anyone for a pinata!

This weekend went great at the tattoo booth- I tattooed a whole softball team, a lot of cute little kiddos, and this one HOT lady came by and asked if I would tattoo her ass... and then she yanked her pants down. I was like, well ok! I thought I was going to have to douse Jef with my bottle of water. After she left I handed him a towel and told him to mop up the drool. All in all, it was a great time AND we made quite a bit of moolah for the upcoming cruise (or if I decide to skip town and say, head to Houston or somewhere :P ).

Sunday was pretty tame... we went out to eat at our favorite wing place. We had just gotten our drinks (water, luckily) and Jef was trying to keep Ava from dropping something on the floor and SPLASH... I got drenched with 2 full glasses of water right in my lap. I felt more sorry for Jef that I did for me. I said that I had needed a bath anyway and was SO glad I'd decided to wear dark jeans instead of those white pants I'd been eyeballing. I was mostly dry when we went to the Wally World, except that huge wet patch on my ass cheek. Siiiigh!!

And now for your daily dose of Ava:

U/S- 19 weeks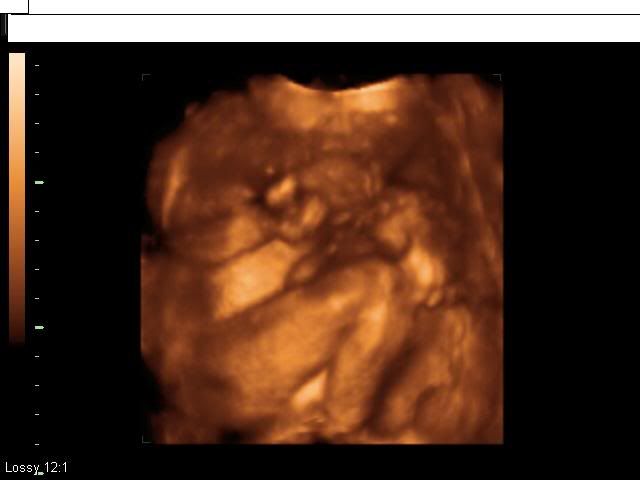 4-D scan, 26 weeks (all smooshed up)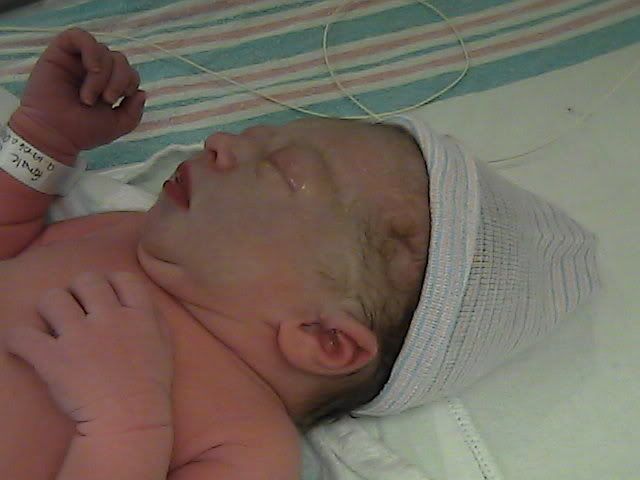 Minutes after birth... she is blue from compression bruising due to the fact that she was in a HURRY to be born (less than 3 hours from the time my water broke until her arrival)



3 Days Old- hanging out on the couch with mom



She loves the blowdryer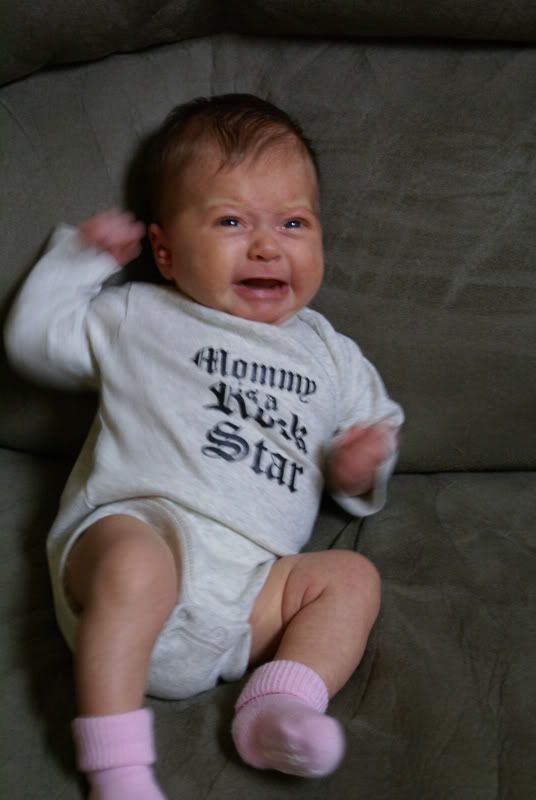 One of my favorite "Ava is pissed" photos!

--The Milk Maid is a rock star!