It's 9am and I am already exhausted. I guess it's the weather- we are getting remnants of Humberto and everything is foggy and groggy.

Tomorrow Big J and I load up for the traveling tattoo show. There is a chili cookoff and car show and we are setting up a little booth for airbrush tattoos. I have worked on the posters for displaying the stencils for days and it's finally done. So much detail work, so little patience. Hopefully we wont get rained out!! I found out this morning they have been announcing this event over the radio AND mentioning our temp-tats! Wooohoooo!

RNPC weigh-in: 188... I found a few of those lost pounds. That makes me +2 from last week, but -3 total. That's life, ay? I did do a little time with the karate kick-bag, so I made an effort! Yay me!

Because my little sweet pee-wee Ava will be one in 5 days and I never got to blog her nursery and all that jazz (and I am finally getting pics framed AND hung up, well some are hung) here are some pictures for your pleasure!



The portraits on the right and left were done when Ava was only 9 days old. She still had her belly button cord stump! At the session we got peed and pooped on multiple times... but, the end result was FAB! The middle pic (which is in better detail below) is called "Awaiting Ava".



"Awaiting Ava"--- Jef was just welled up with tears thru my whole maternity photo shoot. He said he'd never seen me more beautiful than when I was pregnant, and especially that day (except maybe when we got married, but it was a close call there). The look on his face in that picture says it all... Sigh... I get the warm fuzzies from that one everytime I walk into Ava's room. (And no, I don't have 4 hands in the first pic... 2 of those belong to Jef!).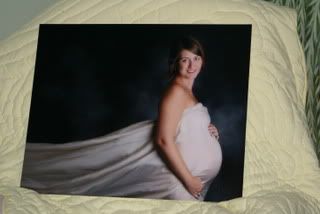 Another maternity session pic... I have a frame, but it hasn't made it in there yet. What you dont see is Faith behind be holding my drape (the infamous "sheet"- more on that in another blog) and a fan in front of me blowing a tiny hair in my face that was tickling me to no end.



This is Ava's willow tree. I did the whole nursery by myself- I painted everything, picked crown moulding (ok Jef used the saw to cut it and helped me nail it up), I got all the bedding and accessories, decorated it, etc etc. The willow tree is not a handpainted mural (I wish!), it's a thing called "tatouage" that is basically 50 sheets of tree that you put against the wall one by one and rub on- like a transfer- with a popcycle stick. It took me 8 hours to complete (it's over 7 feet tall), but it's perfect! And if I ever move that wall is going with me. We bought the tree before we got married... we knew it would go in our baby's nursery one day.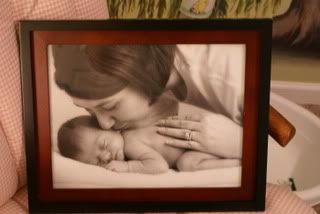 Ava (9 days old) and mommy. It's hard to remember her being that small (and her hair being chocolately brown!).

That's it for now... this coming week will be Ava Theme Week!