Ava and I drove to South Carolina yesterday (over 400 miles round trip) to pick up this little (haha, little) guy. The first time we saw the pup, he walked right past me to give Ava a big ol' slurpy kiss on the face. She was instantly smitten, as was I.
"If we put our heads together and think for a minute I feel like we can conquer the evil known as the Baby Gate!"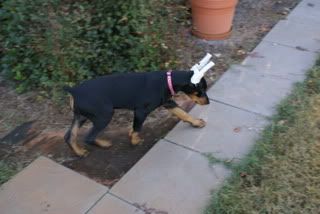 Gotta find just the right spot!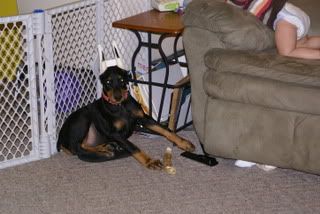 Zeus was resting... Ava was about to drop a toy down for him to play with.
It looks like Zeus knocked Ava over, but in reality Ava just was trying to pet the dog with her feet. I have no idea why.


Last night, before crashing into bed and sleeping like I have not slept in ages, Zeus curled up in my arms in the sofa and didn't move until I made him go outside to potty.

Welcome home buddy!

--The Milk Maid was up to something GOOD!