It's too early for a Mish-Mash, so a Stuff-Stuff will have to suffice.

I have started having nightmares as of late. Weird, freaky dreams. Ok, so my normal dreams are weird and freaky, but they rarely prevent me from going back to sleep. As of late, my night-frights have included me shooting people with a machine gun, me running from wild animals, me stabbing a former friend with a knife... you get the idea. Mayhem ensues and I wake up trying to catch my breath and remember where I am. I totally hate that crap!

In other news, my poor Big J had to be at work by 7am. With the hour and a half drive plus time to get up and shower, etc. he was up before 5am. Then, once he got there, he basically just sat there and listened to another boss yell at the service department. Brilliant!

Here are a few pics from Christmas:



Ava got a ride on train and tons of Dora stuff... Faith is dying to take over Ava's new chair as Paige looks on. Jef and his dad are in the background.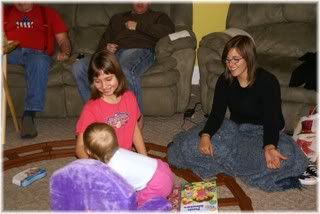 --The Milk Maid keeps her Moet an Chandon in a pretty cabinet. Then she drinks it!!