It's a beautiful day in the neighborhood children! Yes- I am in a perky mood. Could that have something to do with the amorous adventures of a certain Milk Maid and her dearest? Certain adventures times TWO please. Nothing puts you to sleep for the night like love-making, and there's nothing like a good predawn romp to make the blood flow!

And whilst on the topic of sex, Jef finally figured out how to make his penis 8 inches. It was simple really. He just folded it in half!

The sound of silence fills the air here. Faith and Ava are fast asleep in their beds. The cat is curled up asleep at my feet. The coffee maker has stopped it's perking. Just the sound of my fingernails clacking away at the keyboard. I am taking a minute to soak it all in.

For all the new moms who don't have mobile children (yet) and all the mom's-in-waiting who are seeking a baby-bean all their own, let me tell you what having a 10 month old is like:

Having a 10 month old is like having a velociraptor as a pet. Remember those pesky little miniature t-rex types from Jurrassic Park? The ones who would watch the humans and learn to replicate their every move. Like learning to open doors, dismantle remotes, move furniture, manipulate siblings, and climb fireplaces. Ok, so the Jurassic Park dinos only opened doors and tried to eat people, but you get my drift here.

Have I told you the story of how Ava didn't want to sleep one night a month or so ago... and she decided to rip the pretty little Classic Winnie The Pooh border off her wall behind the crib? Yep. Tore it in half. Her crib now sits about 3 feet off the wall.

On the upside of being such a smart little dare-devil, I have managed to teach Ava a few tricks. My favorite thing she does is she lays her head over to the side when you say, "Who's sweet?" and gives you the sweetest most innocent smile ever! And then she will continue upon her path of destruction. I don't think it a coincidence at all that there was a hurricane named Helene when I was pregnant with Miss Ava Helene.

Who's so sweet to help mommy blog!



She was "brushing" the cat with the hairbrush- he left before I could get that photo.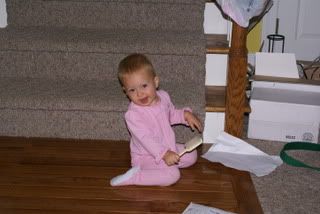 Ava is talking to the cat in this picture.
She's giving him heck over something- I think she called him a dodo bird!



--The Milk Maid is a proud member of the mommy-bloggers guild.